New videos about routine!
The flowers are blooming, the bees are buzzing, and Mister Chris is singing! Join Mister Chris, Wishing Well, and their new friend Elephant as they celebrate daily routines. Watch right here on this page, YouTube, or on the PBS app on your favorite mobile or smart TV device.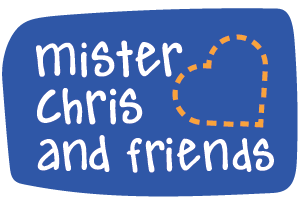 Mister Chris and Friends, the
Emmy winning
, joyful kids music series from Vermont PBS that encourages learning, exploration, and fun for the entire family!
Scroll down to stream
Help us make more quality children's programming!

#misterchrisandfriends
Season 3 - Short Videos About Routine
Join Mister Chris, Wishing Well, and their new friend Elephant as they celebrate daily routines.
Waking Up
3:40
Published:
Early one morning, Mister Chris quietly tip toes into the barn studio and sings a soft, sweet song to Elephant to help them transition from sleeping to waking. Elephant is a little grumpy as they wake up and Mister Chris reminds them that today is an opportunity! They stretch and sing about the promise of the day.
Brushing Teeth
3:30
Published:
It's time for Elephant to brush their teeth, but they'd much rather be doing something else. Mister Chris sings a song and helps Elephant to see how fun brushing our teeth can be. Elephant brushes their teeth until they sparkle and shine, just like you do!
Washing Hands
3:44
Published:
Elephant has been painting a picture, but now their hands are all messy! Mister Chris wishes for a song about washing hands and shares with Elephant the joy that can be found in taking care of ourselves, so that we can take care of others.
Cleaning Up
3:33
Published:
Calling all big, big helpers! Mister Chris needs help cleaning up the barn studio. To get us excited about cleaning up, Mister Chris sings a joyful song as we find homes for various items in the barn studio.
Going to Bed
3:21
Published:
It's getting dark outside, and Mister Chris is getting sleepy! Elephant, on the other hand, is having trouble falling asleep. Mister Chris makes a wish for a song to help Elephant fall asleep and say goodbye to the day.
Mister Chris on Vermont PBS Learning Media
Play, learn and grow! Enjoy using these suggested activities and support materials from Vermont PBS Learning Media based on Mister Chris and Friends. Vermont PBS offers curated FREE, standards-aligned videos, interactives, lesson plans, and more for educators like you.
In springtime, frogs come out of hibernation, and Mister Chris and his friends are excited to hear the sound of spring peepers! Join Mister Chris to celebrate spring, explore the life of a frog and share a special frog-themed song.
While preparing for a big, big talent show on the farm, Claire's dog goes missing. She asks Mister Chris and Wishing Well for help, and that leads to a lost-and-found adventure!
It's not always easy to learn something new. Mister Chris tries to help his friend Raphael learn how to whistle and Wishing Well sends the two on a musical adventure highlighted by a Big, Big Concert.
A new family has moved to the farm from El Salvador. Meanwhile, Mister Chris and his friends learn about butterfly migration and help the newest members of the community feel welcome.
Mister Chris and his new friend want to make something - but where to begin? Wishing Well leads them on an adventure to discover how things are made and what people love about the things they do.
Mister Chris loves harvest time and hopes the annual tradition will be exactly the same. Special guest Francois Clemmons helps him understand what matters most about traditions - spending time with those you love. They also enjoy a Harvest Concert.
Mister Chris has written a new song and wants to sing it to his friends, but everyone is too busy with farm chores to listen. He helps them complete their chores so they will have time to attend the big, big concert and hear his new song.
In this episode, we wish with our friend Wishing Well that we could grow bigger…right now! Mister Chris will work with our farmer friend, Christine, to learn more about what a seed needs to grow, including time.
Mister Chris and his friends follow the journey of a raindrop. We travel from the top of a mountain, down a river and to the lake, just like a real raindrop does.
This episode is all about flying! We learn about why we need wind to fly, and what other factors make flight possible. We meet some amazing feathered friends.
It's the annual farm camping trip and all our farm family friends are going camping to spend a night under the stars! We learn about stars and use the new information to write a lullaby. We also meet a painter friend who teaches us more about darkness and light. Then on our camping trip, we sing songs around the campfire.
Musician and early childhood educator Chris Dorman stars as Mister Chris, a delightful farmer and performer who makes wishes and leads children on adventures to learn more about how wishes might come true. Along the way, he meets up with friends and finds clues that help him to explore the topic at hand. Each episode is imbued with music and movement, with a strong focus on social and emotional development.

Mister Chris and Friends emphasizes children's experience, expression, and management of emotions and the ability to establish positive and rewarding relationships with others. Mister Chris and Friends invites young children to play, explore, and learn. Multiple Emmy nominated, and 2020 winner.
Your gift helps Vermont PBS provide exceptional programming like Mister Chris and Friends for our entire community.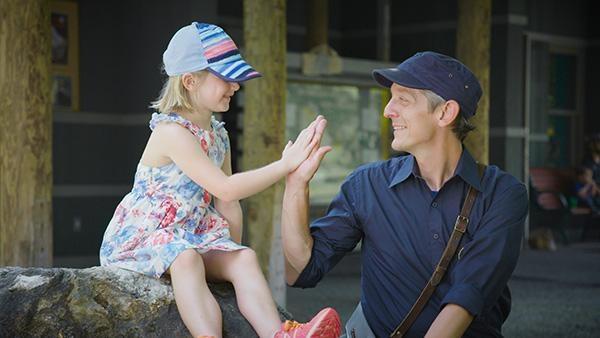 Mister Chris and Friends has support from...