Our People
From our staff to our board of directors and Community Council, meet the talented people who make it all possible at Vermont PBS. We'd love to hear from you, contact us! Interested in volunteering at events? Click here!
---
Board of Directors
The Vermont PBS Board of Directors holds the license for the non-profit corporation Vermont PBS. The board members meet regularly to guide overall operations. Board and committee meetings are open to the public. If you are interested in attending the next meeting or would like more information, please call 802-655-4800. View our meeting schedule. To see list of the Board members for the new Vermont Public, click here.
Marguerite Dibble (Chair)
Londonderry

Donna Austin-Hawley (Vice Chair)
Williston

Jim Clubb (Chair Emeritus)
Dorset
Dennise R. Casey
South Burlington

Hal Colston
Winooski

John N. Evans
South Burlington
Tom Evslin
Stowe
Peter M. Graham
Montréal
Beth Rattigan
Woodstock
E. William Stetson
Norwich
David Taplin
South Stratford
---
Community Advisory Board
Members of the Vermont PBS Community Advisory Board (CAB) are an important link between Vermont PBS and the communities we serve. They provide feedback about our programming and public services and they share each communities' specific needs with the station. Our CAB Members serve as ambassadors for Vermont PBS and they represent our viewing areas: Vermont, Quebec and parts of New York, New Hampshire and Massachusetts. View CAB Meeting Schedule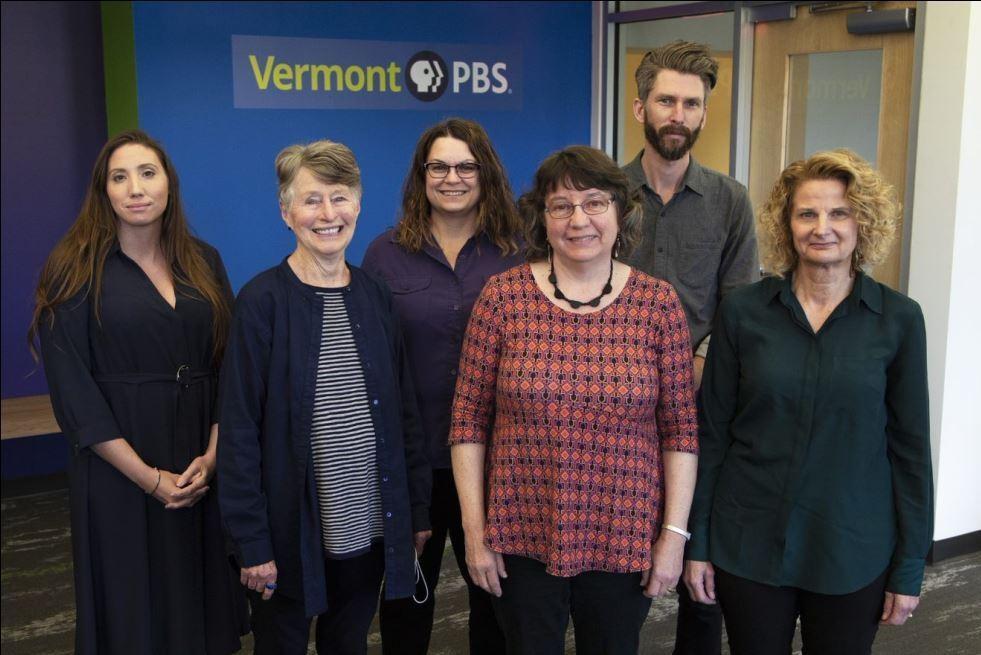 Vermont PBS Community Advisory Board (left to right): Emerald Drake, Mary Jane Dickerson, Julie Theoret, Cynthia Weed, Michael Talbott, Cindy Waters (former). (Not pictured: Van Dora Williams, Tim Egan, Ryan Torres.)
Emerald Drake (Chair)
Franklin County

Tim Egan (Vice Chair)
Caledonia County
Cynthia Weed
Franklin County
Ryan Torres
Addison County
Rosalie Fox
Bennington County
David Chapnick
Chittenden Co.
Jude Domski
Chittenden County
Mary Jane Dickerson
Chittenden County
Van Dora Williams
Chittenden County
Julie Theoret
Caledonia County
Michael Talbott
Rutland County
---
Senior Staff
To contact any of our Senior Staff listed below, please use the contact form at the bottom of this page. Thank you for your interest in Vermont PBS!
Chief Finance and Administration Officer
Steve Ferreira
Steve Ferreira joined Vermont PBS as Chief Financial & Administration Officer in July 2018. In this position, Ferreira is responsible for the overall financial strategy and direction at Vermont PBS, as well as human resources. Within finance, he guides the controller, treasury, accounting, tax, and internal audit functions to pursue the organization's aggressive growth strategy and meet its Board of Director's and member's expectations. Prior to joining Vermont PBS, Ferreira help leadership roles with Keurig Green Mountain and Ben & Jerry's, and also worked in the CPA firms of Yoshida, Croyle & Sokolski and Fothergill, Segale & Valley. Throughout his 20 year career in Finance , Business Analytics, Demand Planning and Revenue Growth Management, Steve has established a reputation for building world-class teams and for aligning financial and business metrics to support business strategy and high-growth. Steve holds a BS in Business Administration with a concentration in Professional Accounting from University of Vermont. A Vermont native, Steve resides with his wife, Teresa, and their two children in Essex.

Chief Technology Officer
Jack Efromson


Vice President of Marketing
Chrystie Heimert
Chrystie's communications career has spanned 30 years and taken her from Manhattan to Montana, the Arizona desert to the Maryland seaside and the green mountains of Vermont. She's honed her passion for authentic brands and their strong commitment to meaningful change as Director of Public E-Lations and company spokeswoman for ice cream icon Ben & Jerry's, Director of Communications for environmental innovator Seventh Generation and Communications Chief for global yoga and mindfulness brand lululemon athletica. She's managed the Creative, PR and Consumer teams and partnered with internal and external stakeholders to develop and execute meaningful brand initiatives and groundbreaking marketing campaigns. Through her work with these brands, she's contributed to some of the defining change movements of the past quarter century, from curbing global climate change to protecting people from harmful toxins and creating conditions for mindfulness to flourish. Her best-day-ever professional moments include ice cream-fueled protests in our nation's capital that landed at least two founders in jail, a "green carpet" photo op with the Lorax, and 15 minutes of fame in The Onion—but her finest hours are those spent hanging with her husband and four kids on the shores of Lake Champlain.

Senior Director of Production
Belinda Lott

Director of Programming
Eric Ford
Eric graduated with a BA in Communication from the University of Southern Maine, and worked in television production in Portland, Maine and in Vermont at WCAX-TV. Ford spent 10 years as the Communication Director for arts-based non-profit Burlington City Arts until 2016. Ford was also the co-founder of the Burlington Film Society which began in 2012, and spends his free time (and working hours) watching amazing films and tv shows. He lives in Westford, VT with his wife and daughter.
We are happy to hear from you! If you'd like to contact our senior staff, please use the form below.
We review each submission for prioritization and to block out spam and phish attempts. Please bear with us as we organize a response from the appropriate staff member. For urgent issues, please call 802-655-4800. If you have a show idea, please see vermontpbs.org/contentideas or vermontpbs.org/filmmakers for existing projects.