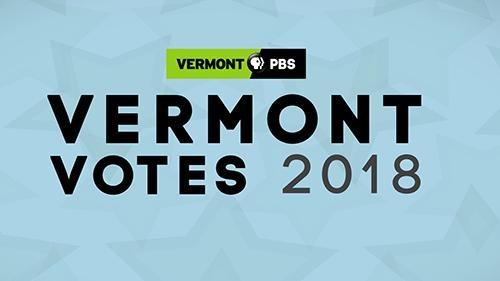 Vermont PBS presents election coverage of state and federal races, including live debates, and candidate commentaries.
Scroll down to stream:
The VPR - Vermont PBS Debates

Vermont Public Radio and Vermont PBS bring you the VPR – Vermont PBS Debates, a new collaboration to broadcast four live candidate debates leading up to the General Election on November 6. Moderated by Bob Kinzel, Peter Hirschfeld and Jane Lindholm on VPR's program Vermont Edition.
U.S. Senator Debate 2018
55:03
Published:
U.S. Senate debate 2018. Recorded Oct. 29. Bernie Sanders (I) and Lawrence Zupan (R).
U.S. House Debate 2018
55:07
Published:
U.S. House debate, recorded live at VPR studio on October 17, 2018. Candidates: Anya Tynio (R);
Peter Welch (D).
Governor Debate 2018
55:07
Published:
Vermont Governor Debate 2018. Recorded Oct. 24. Christine Hallquist (D) / Phil Scott (R).
Lieutenant Governor Debate 2018
55:00
Published:
Lieutenant Governor debate recorded live on October 10, 2018. Candidates: Don Turner (R); David Zuckerman (P/D).
"Together with VPR, we bring our audiences a depth of understanding of the issues and candidates that they can take with them to the polls. It's more important than ever this election season that public media advance civil discourse, and the VPR - Vermont PBS Debates do just that."
- Holly Groschner, President and CEO of Vermont PBS.
"It's important that voters statewide have the opportunity to draw clear distinctions between candidates and to have those distinctions illuminated by experienced journalists. With this collaboration, our organizations will bring political debates to more people and help the voters to become well informed about their choices."
- John Van Hoesen, VPR's Senior Vice President and Chief Content Officer.
In addition to the debate series, VPR has invited all candidates for statewide office to be interviewed during Morning Edition, Vermont Edition and All Things Considered. Vermont PBS has also invited all candidates who are on the Vermont Secretary of State's ballot for statewide office to film one-minute candidate commentaries, which are currently broadcasting and available to stream now.

Watch Fridays at 7:30 pm or Sundays at 11:30 am on our main channel, or stream anytime at vermontpbs.org/vtw
1:50
Published:
Join host Stewart Ledbetter and Vermont's top journalists as they delve into the most important news stories each week. Vermont This Week keeps viewers informed on how politics are shaping our state, covering all sides of the issues. We discuss not only what happened, but also the reasons why.
Five-part series exploring what makes Vermont a trailblazing progressive force that impacts the entire country. vermontpbs.org/beyondbernie
0:45
Published:
Explore the character of the 'Brave Little State' of Vermont and the shared values that matter most to Vermonters, regardless of party affiliation. Although it may be one of the smallest states, Vermont was the first to abolish slavery and legalize civil union, and boasted two presidential candidates and two high profile senators.