Vermont Newsguy
by Jon Margolis
Is Vermont High School Football an Endangered Species?
October 18, 2013
It's mid-Autumn. Most of the leaves have fallen, a chill is in the air, and many a Vermonter " even some who don't have children, neighbors, or friends out on the field " enjoy going to a high school football game. They go to cheer on their home-town kids " the Champlain Valley Union Redhawks in Hinesburg, the Tigers down at Middlebury High, Colchester High School's Lakers or the aptly named Solons in Montpelier.
Whoops!
Check that last one. Montpelier High fields soccer teams " boys and girls, varsity and junior varsity. But the Solons don't play football any more.
"It was just a lack of numbers and a lack of interest," said Montpelier High School principal Adam Bunting. If the school had fielded a team this year, he said, it would be so small that boys might feel "pressure to play injured" to avoid having the team forfeit a game, as it had to do last year.
Montpelier is not unique. According to figures supplied by the Vermont Principals Association, 33 Vermont high schools fielded football teams in 2006, with 1,945 boys participating. In 2012, 26 schools had teams with a total of 1,159 players.
For two reasons, those figures could overstate the falloff in football participation. First, they may not be complete; schools are not required to report their programs, and one or two small schools may not have informed the Principals Association. Second, football is hardly the only school activity in which fewer students take part. In fact, there are simply fewer students in Vermont than there were several years ago.
But the student population of Vermont high schools fell about 13 percent from 2006, while the number of football players went down by almost a third.
"You are beginning to see fewer and fewer students involved," said Bob Johnson, the associate executive director of the Vermont Principals Association.
High school football in Vermont is not about to disappear. Several programs are thriving. Lots of teenage boys love playing football. Realistically or not, some see the game as their ticket to a college education (perhaps a free one) and maybe even a career in the National Football League.
Besides, as in the rest of the country, the passion, the pace, sometimes seemingly the purpose of life in many a high school centers around football in the autumn. It isn't just the players. It's the cheerleaders, the band, the pep rallies, the booster clubs. For several weeks the game dominates school life, and most students seem to like it that way.
But high school football in Vermont is diminished from what it was, and is likely to be more diminished in the near future. School athletic officials say they would not be at all surprised if more schools drop the sport.
Some smaller and medium-size schools that are near each other might join forces, with just one school fielding a team, but with boys from nearby schools eligible to play on it. Montpelier tried to work out such an arrangement with Williamstown and Northfield High Schools, neither of which has a football team, but it did not work out.
One reason schools might drop football, Johnson said, is that there are now so many more sports alternative for high school students. Some schools have volleyball and bowling teams. Others are considering rugby and ultimate Frisbee.
Besides, considering the need for protective equipment and uniforms, and for several coaches (offense, defense, line, backfield, and maybe special teams), football is expensive.
And about to get more expensive for Vermont high schools thanks to what is almost certainly (though not provably) the other reason fewer boys are playing the sport: the danger of serious brain injury.
"No parent has come to me specifically and said, "my son is not going to play football because I'm worried about concussion,'" said Trevor Squirrell.
But the very fact that Squirrell is involved in this conversation at all proves that the brain injury threat is having an impact on high school football participation. It also shows that Vermont's athletic, educational, and political establishment is not trying to deny that playing football can lead to serious and disabling head injuries.
Squirrell is not a coach (though he has coached), a teacher, or an education official. He is the executive director of the Brain Injury Association of Vermont, and his association is involved in high school football because both the educators and the Legislature have established a procedure designed to protect student-athletes.
And also, perhaps, to preserve high school football.
And even though there is no conclusive evidence that boys " or their parents " are deciding not to play football out of fear of brain injury, Squirrell does not doubt that such decisions are being made.
"Certainly there seems to be evidence out there that this is happening," he said.
It could hardly be otherwise. The suicides of former NFL players Junior Seau, Dave Duerson, and " most recently " Paul Oliver received extensive news coverage. Autopsies revealed that Seau and Duerson had chronic traumatic encephalopathy, a brain disease that can be caused by repeated blows to the head. Duerson's story is part of a new movie called "The United States of Football," which also cites experts questioning the safety of football at all levels, starting with Pop Warner League "pee-wee" football.
There are no reports of serious brain disease that might have been caused by high school football in Vermont. In fact, there are no reports of any Vermont football player receiving a serious head injury in recent years.
But there have been such incident in other states, and Vermont followed the lead of some of those states by passing Act 68 earlier this year. The law requires schools to adopt an "action plan" for dealing with head injuries in "collision sports" such as football, and establishes a "concussion management plan" which includes a flow chart for what coaches are to do when a player shows any sign of concussion.
"Concussions are going to happen," said Squirrell, in football and in other sports. But if they are properly dealt with, if players are not allowed to return to play " or even to "return to learn" in the classroom " before they are ready, concussions are less likely to lead to brain injury.
The new law also orders coaches to undergo "training in recognizing the symptoms of concussion and how to reduce the risks of concussion," and requires a trained "licensed health care professional" at every interscholastic football game.
Almost all schools already have such a professional on hand, but some of them are emergency medical technicians. By 2015, that level of license will no longer suffice. Some schools will have to find " and pay for " health professionals with more training. Along with other costs of fielding a football team, this could price some schools out of the game.
"Football can be a very safe sport," said Bob Johnson, predicting that it is "still going to be here at some level" for years to come.
But he acknowledged that it might be a slightly different game (getting rid of kickoffs has been discussed at all levels of the sport), and possibly played by fewer players at fewer schools. Though kids can get hurt in all sports (and that includes cheer-leading), the evidence suggests that the risk of serious injury is greater in football.
If more schools drop the sport, it would be more than just a change in athletic schedules. It would be a change in the culture of high school, one that some principals and teachers would welcome, though many in school and in town would regret. Somehow it's hard to imagine a pep rally for the ultimate Frisbee team.
###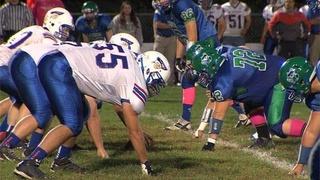 See also: Watch VPT's special,
Damage Control
. A panel of experts and young athletes discuss the issue of concussions in sports, and the response of Vermont schools and officials. Live call-in. Panelists include Alan Maynard, President of the Vermont Association of Athletic Trainers and Dr. Kalev Freeman, Director, Emergency Medicine Research, Fletcher Allen.
---
Is Vermont's Sex Offender Registry Effective?
July 12, 2013
At last count, there were 1,155 Vermonters on the public section of the state's Sex Offender Registry and Notification (SORN) list.
That's the list open to the public. It allows anyone to go on line and learn whether anyone living nearby has been convicted of a sex crime, including (but not limited to) sexual crimes against children and young teenagers.
The web site provides the name, age, and description (including a picture) of each registered sex offender, whether he (it's usually a he; only 27 women are on the Registry) is considered "high risk" to re-offend, the date he was convicted, and the statute he violated. It does not give street addresses, only the town of residence. Those who want to know if the offender lives next door would have to consult their local phone book or other resource.
The Registry is required by law, both state and federal. Its goal is to minimize sexual assault against children by alerting both police and parents to the presence of potentially dangerous offenders.
Does it work"
At first glance, the evidence seems to suggest that it does. The number of reported sexual offense against minors is on the decline. In 2004, according to the Vermont Criminal Information Center (based on data from the National Archive of Criminal Justice) there were 204 forcible and 89 non-forcible sex offenses reported against victims under the age of 18. By 2010, the last year for which information is available, there were only 165 forcible and 39 non-forcible offenses reported.
But not necessarily because of the Sex Offender Registry.
Thanks to publicity surrounding such horrible crimes as the abduction and murder of 12-year-old Brooke Bennett in Randolph June 2008 (and perhaps to the promotional zeal of some cable television personalities) public awareness and public outrage about sex crimes against children has been growing.
But the actual commission of these crimes has been shrinking.
"The rate of sexual assault, according to all federal crime data, has been declining for many years," said Andrew Harris, a professor of criminology and criminal justice at the University of Massachusetts-Lowell, who has done extensive research into sex offender policy. "Whether it can be attributed to any particular policy " the registries, better investigation, longer sentences " we can't say."
But there does seem to be something approaching a consensus in the academic research over the question of whether the registries are effective. That consensus is that they are not.
One study reaching that conclusion was done in 2005 by the Legislative Council for the Vermont State Legislature. It found that "there is insufficient evidence to determine whether posting information about registered sex offenders on the internet is a valuable and effective public safety tool."
But, the report acknowledged, "The general assembly determined'that the majority of the public feels that the internet registry provides important information that can be used to protect families and expects such information to be a matter of public record."
That's not quite saying (because researchers working for the Legislature would not say) that politicians were pursuing a useless policy because of public pressure. But it's close.
Even Harris, who described himself as middle-of-the-road on the dispute, could only say that just because the research has "not been able to demonstrate a significant impact (of the registries) doesn't lead to conclusion that there is no impact."
But Vermont Commissioner of Public Safety Keith Flynn and Francis (Paco) Aumand, the Director of the Division of Criminal Justice Services both argue that the Registry could protect some children in ways that no research could uncover.
By warning their children about the presence of "predatorial sex offenders," Flynn said, parents who have checked the registry could be protecting them from potential attacks.
Flynn and Aumond agree with Registry critic Allen Gilbert, the Executive Director the American Civil Liberties Union of Vermont that the vast majority of sex offenses against children are committed by their relatives and acquaintances, not by what Gilbert called "a stranger in a trench coat leaping out from behind the bushes."
But Flynn noted that even the "small minority of sexual offenders (have the) potential to do great harm," and Aumand pointed out that some sexual predators become friendly with families " and thereby make themselves "acquaintances" " precisely to gain access to their vulnerable children. Forewarned about this new companion's past, he said, the parents can cut off contact with him before he can pounce.
Still, most experts in the field, including Flynn and Aumand, acknowledge that if the registries may do some good, they can also do some harm. Many of those experts conclude that the harm outweighs the good.
That's the conclusion of
"Raised on the Registry: The Irreparable Harm of Placing Children on Sex Offender Registries in the US,"
a 111-page report issued by Human Rights Watch in May.
"Of course anyone responsible for a sexual assault should be held accountable," wrote Nicole Pitman, the author of the report. "But punishment should fit both the offense and the offender, and placing children who commit sex offenses on a public registry " often for life " can cause more harm than good."
Pitman was referring in part to a problem " or at least what many consider a problem " that does not apply in Vermont: placing on the Registry a teenage boy who has consensual sex with an under-age (16 in Vermont) young woman.
However objectionable it might be, such conduct is the sign of a normal sex drive, not the abnormal passion for sex with minors that serves as one justification for sex offender registries. Vermont does not put those offenders on the Registry as long as the offender was under 18 and the victim older than 12.
But a common offense of the Vermont registrants is "lewd and lascivious conduct with (a) child." That could describe truly dangerous and abhorrent conduct. But in one case (not in Vermont) a college student, probably after drinking a few beers, urinated on the grass at the edge of his campus. Unfortunately, it was also near a house where two teen-aged girls lived. The parents pressed charges and the young man is on his state's registry.
There is no evidence that there is a similar case in Vermont. But no guarantee that there is not.
In a few cases, being listed on the Registry has proved fatal. In 2006, a self-appointed vigilante from Canada murdered two men who were on Maine's Registry (he had also checked out the Vermont list) before shooting and killing himself.
One of the murdered men had been convicted of having sex with his girl friend just a few days before she reached the age of consent.
The Vermont Registry posts a disclaimer on its web site: "Any person who uses information in this registry to injure, harass, or commit a criminal offense against any person included in the registry or any other person is subject to criminal prosecution."
"I'm not sure what good that does," said Allen Gilbert. "The law already says you're not allowed to hurt anybody."
Vermont's law differs from those of many states in other ways. It does not empower localities to limit where offenders can live. And most offenders are on the Registry for a period of time. If they do not re-offend " and most do not " they are removed from the list when the time expires.
Critics and advocates of Vermont's Registry disagree over whether its benefits outweigh its costs. Gilbert said he would prefer to replace the Registry with "a more reasonable approach" which would rely on "treatment programs that work," and a greater effort to "successfully reintegrate (offenders) back into society."
The Registry hinders that process, Gilbert said. It stigmatizes those on it, making it harder for them to find and keep a job, to be accepted by civic organizations or to be welcome by their neighbors.
But he also acknowledged that the question is complicated. And while law enforcement officials such as Flynn and Aumand think the Registry is worth its costs, they don't dispute that it has its cost, and that it can interfere with efforts to treat offenders to the point at which they no longer endanger anyone. Unlike their counterparts in some other states, Vermont's top law enforcement officials do not say they believe that people who sexually abuse children have an affliction that can never be cured.
"This is a legitimate argument that needs discussion," Flynn said, acknowledging that the Registry "limits civil liberties," and should be applied selectively, "with appropriate balance."
---
Killer Cats
April 26, 2013
The next sound you hear will be from one of the world's more ferocious animals, an invasive species in these parts, a vicious killer responsible for the predation of billions of wild birds:
"Meow."
Meow" As in, the meow that is so often the response to "here kitty, kitty""
Yup, that meow. The call of the house cat, "felis catus" to the scientist, beloved companion to millions of Americans, including hundreds of thousands of Vermonters. The cats that crawl onto their owner's laps in the evening in front of the fire, purr when scratched behind the ears, and make children laugh by leaping about.
And kill birds.
How many birds" Billions, roughly 2.4 billion a year nationwide, says a new study by credentialed scientists from the Smithsonian Conservation Biology Institute and the U.S. Fish and Wildlife Service writing in a prestigious,
peer-reviewed journal
.
No way, says a cat-lovers organization.
"This doesn't appear to be research for research's sake." said Becky Robinson, co-founder and head of
Alley Cat Allies
. Not only do the "extreme numbers seem quite exaggerated." she said, but the authors wanted to "further their agenda to kill more cats."
Whether or not the study -- "The impact of free-ranging domestic cats on wildlife of the United States" " is part of it, there is an agenda of sorts here, a low key but unmistakable campaign being undertaken by environmentalists in alliance with federal and state (including Vermont) agencies to spread awareness about bird predation by cats.
There are no TV ads, speeches, or mass meetings in this campaign. But government natural resource agencies have been encouraging the discussion. In February, for instance, the Vermont Fish & Wildlife Department issued a statement quoting fish and wildlife biologist John Buck saying that "cats pose a threat to Vermont's songbirds, such as robins, bluebirds and cardinals, (and) may even restrict the statewide recovery of some rare birds. The whip-poor-will, which is a state threatened species, can easily fall prey to roaming cats during their nesting season."
Buck didn't suggest killing more cats, but Becky Robinson was not entirely wrong. Though it hardly advertises it, one of the aims of this quiet campaign really is to kill more cats.
"Unless adoptions increase, it's hard to avoid euthanasia" as one possible option in the effort to protect birds, said Rosalind Renfrew, a conservation biologist at the Vermont Center for Ecostudies. Even more bluntly, the respected (if often controversial) environmental writer Ted Williams wrote that the most "effective, humane alternative" for both birds and cats was 'to trap and euthanize."
No, not little Tabby sitting on a lap in front of the fireplace. That's a pet, an "owned cat." in the jargon of this discussion. No one wants to kill him or her.
The cats effectively marked for death by this persuasion campaign are the strays, the wild or feral cats that are responsible for 70 per cent of the cat-caused bird deaths according to that disputed study.
In Vermont, at least, pet cats would seem to outnumber their feral cousins. According to the American Veterinary Medical Association, Vermonters are more likely to have a cat than the residents of any other state. Seventy percent of Vermont households have a pet, the Association said, with just about half the households owning one or more cats.
Though pets don't kill as many birds as feral cats, the bird-protectors have advice " or perhaps it's more like a command " for their owners..
"Keep your cat indoors."
said Mark Labarr, a conservation biologist at
Vermont Audubon
, echoing the message of the Fish & Wildlife Department and other environmentalists.
Not only will a cat kept inside not kill birds, LaBarr said, "it will probably live longer." Inside, a cat cannot be run over by a car or eaten by an owl or coyote. LaBarr said research shows a cat kept inside is likely to live four or five times longer than one allowed outdoors.
The authors of the report " actually a compilation and assessment of earlier research " published in January in "Nature Communications" an on-line scientific journal, acknowledge that their figures are not exact. "The magnitude of mortality"remains speculative." they say, but their 'systematic review" of all the available evidence leads to the "estimate that free-ranging domestic cats kill (between) 1.4 (and) 3.7 billion birds"annually."
What this means, the authors conclude, is that cats "are likely the single greatest source of anthropogenic (human-caused) mortality for US birds."
Robinson, who said habitat loss reduces bird populations more than does predation by cats, said her organization hired an "independent" statistical analyst, Gregory Mathews of the University of Massachusetts at Amherst, to review the report. Mathews found "numerous major flaws in the statistical analysis."
But "Nature Communications" has a transparent and apparently rigorous editing and peer review process. The study by the Smithsonian and Fish and Wildlife scientists was submitted in September, but not accepted until mid-December. Other organizations, including the American Veterinary Medical Association, are treating its results as valid.
It is hardly news that cats kill birds. But why, all of a sudden, would they be killing so many that this predation has become a problem"
Perhaps, suggests Rosalind Renfrew, because there are so many more cats. Recent research, she said, showed that "40 years ago there were 30 million pet cats in (American) homes. It's tripled. There are now about 90 million."
What makes this more dangerous for birds, she said, is that "birds did not evolve with cats." So while other animals eat birds, those animals and the birds reached natural population equilibrium. Cats are not part of that process. They were brought here by people, with the potential to upset the equilibrium.
"It's what cats do." said Renfrew, explaining that making sure a cat is well-fed before letting it out won't keep it from trying to catch birds.
Mark LaBarr acknowledged that convincing cat owners to keep their "revered pets" inside can be "a tough one. It's difficult to talk to some people about that, even though it means they'll have lower vet bills."
Experts say that city and suburban cats probably kill more birds than do their rural counterparts. In rural areas, more birds are likely to stay in the forests, where cats rarely wander. Rural cats might also stay closer to home because they are in more danger from predators.
But the standard Vermont barn cat cherished by so many farmers as rodent control agents qualify as "free-ranging domestic cats" that feed on birds. According to Anne Ward of the Central Vermont Humane Society in Montpelier. those barns are home to the typical Vermont feral cat colony. The way to control them, she and other cat-lovers insist, is TNR " trap, neuter, replace. As the sterilized cats die off, the colonies should dwindle.
Here is the crux of the scientific debate. Most environmentalists find that TNR has been a failure. "It has largely been unsuccessful." said LaBarr. And Ted Williams called TNR "a dangerous, cruel, and illegal practice" harmful to both cats and wildlife.
But Joanne Bourbeau, the former Vermont Director of the Humane Society of the Untie States, insists TNR is working in Vermont, where "fewer and fewer cats are being brought into shelters."
Becky Robinson insisted that it is euthanasia that has failed.
"We've been catching and killing for a century." she said, "wasting millions of dollars of taxpayers" money. TNR works."
But even TNR advocates acknowledge that it will only work if pet cats cease "migrating" to the feral colonies, and Anne Ward noted that in Vermont 'there's a lot of dropping off of non-feral cats in those barns" instead of taking them to shelters.
TNR has been practiced for about 20 years, Robinson said. Considering that a cat in the wild has a life span of only a few years, if TNR were as successful as it supporters claim, most feral cat colonies would be almost gone by now.
Though they are reluctant to say so this bluntly, the bird protectors believe that euthanizing the invasive feral cats " many of them disease-ridden and malnourished " is a small price to pay to protect and preserve native wildlife.
In an animal-loving country, that's not an easy argument to make.
What do you think" Are you for the birds or the cats" Or do you think they can all get along"
---
«older
newer»
Vermont PBS educates, informs, entertains and inspires Vermonters to be lifelong learners and engaged in their community.
Watch our Vermont PBS Kids' 24/7 channel. Enjoy the benefits of joining our Kids' Club! Explore our many free videos, games, and resources for educators and parents!
Upcoming and featured!
People talk about Vermont PBS!
Vermontpbs.org proudly supported in part by...